Instant Cardboard Furniture for Supporting Operation of Shelters with the Emphasis on Mental Care fo
Home > Instant Cardboard Furniture for Supporting Operation of Shelters with the Emphasis on Mental Care fo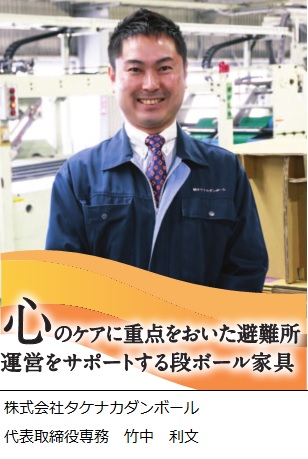 Through prioritizing contribution to the local community,we have developed the Dandan Room,for use in disaster situations, especially with the possibility of the Nankai megathrust earthquake in mind. Utilizing our own technology of processing cardboards,the Dandan Room is a set of cardboard furniture that can be used at evacuation shelters as partitions,chairs,and beds.
The Dandan Room was developed through trial and error after listening to comments from local residents. Although the partitions were initially brown,the original color of cardboard,in order to brighten up shelters the color was changed to greenish brown, and decorated with cherry blossoms and four-leaf clovers. User comments also influenced the design of the Dandan Room. It can be assembled and reassembled easily,without the need for adhesive tape. As the Dandan Room is made of cardboard,it can be recycled and help the smooth running of a shelter.
We hope the Dandan Room can help provide comfort for people either in the local area or elsewhere,should they be forced to stay in a shelter due to a disaster.
Takenaka Danbol Co.,Ltd.
Senior Managing Director
Toshifumi Takenaka