Home > List of products > Implant Bell Cap Bridge
Certification Number for Disaster Prevention Related Products
28 高知防産第 2 号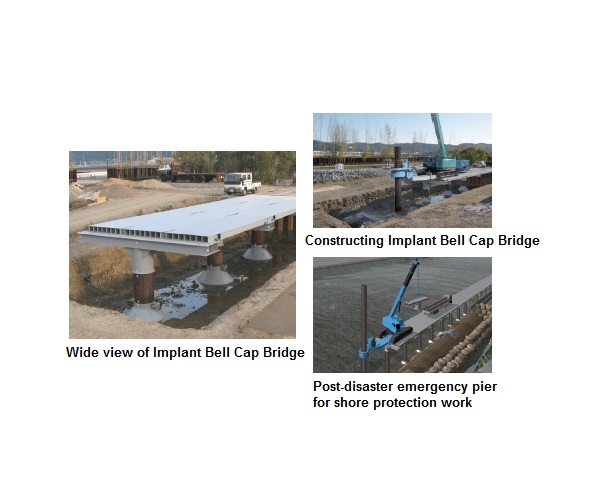 Civil engineering/Construction
Location :
Further information can be accessed through this QR code.
Reusable prefabricated single-pier steel modular bridge
The Implant Bell Cap Bridge is a prefabricated single-pier steel bridge which can be rapidly built and dismantled at a low cost. With the bell cap multi stress dispersion system, bearing capacity and lateral resistance of the piers are drastically increased. Thus, the embedded depth of tubular piles can be reduced by the increased stress dispersion effect of the bell cap.
This bridge is particularly suitable for use as a temporary bridge (for later use), or when construction conditions are difficult, due to limited access, above water, space restrictions or inclined commencing surfaces etc.

【Specifications】
・Span:6m
・Bridge Width:6.0m
・Live Load:Live Load Condition A (Japanese Specifications)
・Bridge Deck:Steel Deck (2.0m x 6.0m) W=3.6t
・Structural Members:Tubular Pile 800mm O.D.12mm w.t. L=12.0m (Standard) W=2.8t
           Bell Cap 2,200mm O.D. x H850mm W=1.3t
           Main Crossbeam (H0.35m x W6.2m x D1.05m) W=2.9t
GIKEN LTD.
Address
Kochi Head Office: 〒781-5195 3948-1 Nunoshida, Kochi City, Kochi, Japan
Tokyo Head Office: 〒135-0063 1-3-28 Ariake, Koto-ku, Tokyo, Japan
Phone number/Fax number

088-803-1256
03-3528-1633

/

088-818-1200
03-3527-6055