Home > List of products > Implant Bell Cap Bridges
Implant Bell Cap Bridges

Also recommended for

Civil Engineering
Certification Number for Disaster Prevention Related Products28 高知防産第 2 号
Prefabricated leased temporary bridges for rapid and economical construction
Bridges adversely affected by natural disaster events Temporary bridges required quickly or where construction space is limited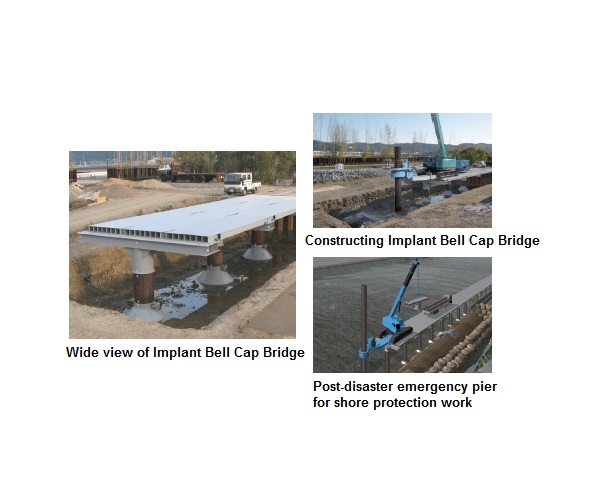 Civil engineering/Construction
Also recommended for
Used

Further information can be accessed through this QR code.
Large bell caps are driven into embedded steel tubular piles using the Gyropress Method (rotary cutting press-in method); as a result, vertical and horizontal displacements are prevented or mitigated.
Prefabricated components enable rapid construction.
Use for temporary bridges, piers or overwater construction platforms
Upper structure → Covering plate: 0.25 m H x 2.0 m W x 6.00 m D,
weight = 3.6 tons
Main crossbeam: T-beam 0.35 m H × 6.2 m W ×1.05 m D, weight = 2.9 tons
Lower structure → Steel tubular pile: ø = 800 mm, thickness = 12 mm, length = 12.0 m (standard), weight = 2.8 tons
Bell cap: ø = 2,200 mm, height = 0.85 m, weight = 1.3 tons
For info on prices, please contact GIKEN LTD.
GIKEN LTD.
Address
Kochi Head Office
3948-1 Nunoshida, Kochi City, Kochi 781-5195
Tokyo Head Office
16F Ariake Central Tower, 3-7-18 Ariake, Koto-ku, Tokyo 135-0063
Phone number/Fax number

高知本社 088-846-2933 東京本社 03-3528-1633

/

高知本社 088-846-2939 東京本社 03-3527-6055