Home > List of products > Disaster Relief Toilet 2-way Daichi-kun
Disaster Relief Toilet 2-way Daichi-kun

Also recommended for

Volunteer DRR organization

Civil Engineering

DRR Planning

School
Certification Number for Disaster Prevention Related Products27 高知防産第 14 号
For emergencies when there are no toilets!
Installing temporary toilets immediately after large-scale disaster Those worried about prolonged evacuation when temporary toilet tanks quickly fill up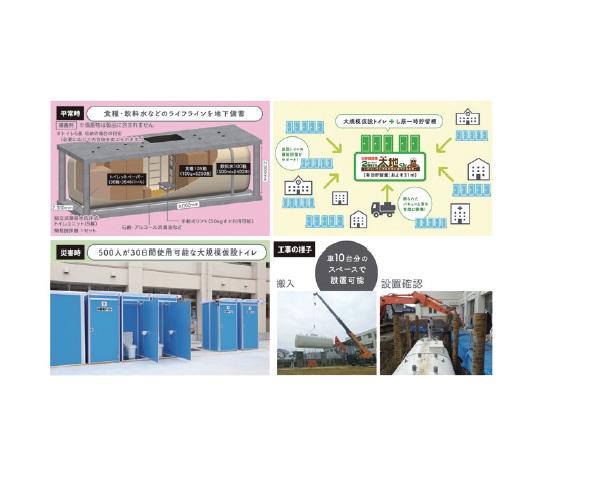 Also recommended for
Used
Kochi Red Cross Blood Center, Japanese Red Cross Aichi Disaster Management Center, elementary and junior high schools and nurseries in Aki City, Asahi Elementary School in Kochi City, nurseries and evacuation shelters in Shimanto Town, NEXCO-West, and Wide-Area Disaster Prevention Base in Aisai City, Aichi Pref.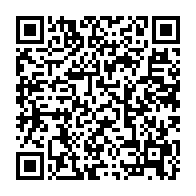 Further information can be accessed through this QR code.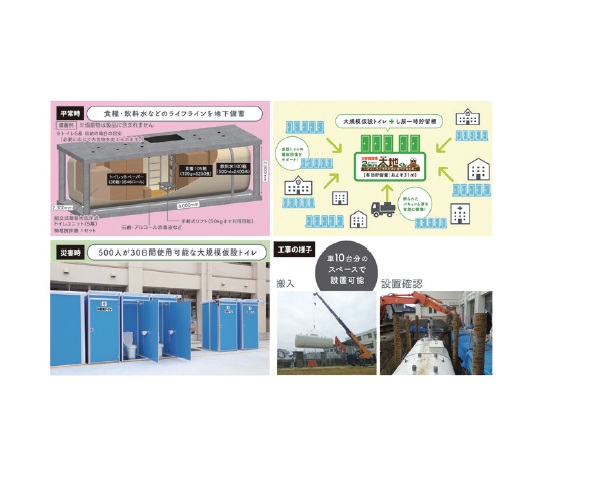 Can be used as an underground storage tank to store 10 simple flush toilets and essential emergency supplies during ordinary times
Large-scale temporary toilets usable for 30 days by 500 people after disaster
Evacuees can set up the toilets and use them immediately
Dimensions: 7,500mm W×2,300mm D×2,300mm H
Weight: Within 2,100kg
Material: FRP
Volume: 33.72m3
Effective storage: About 29.06m3
Price: Contact us
Shikoku Jokan Co., Ltd.
Address
〒780-0084 Minamigoza 19-31, Kochi City, Kochi
Phone number/Fax number

088-883-1011

/

088-884-1324